Clément Mateu: "I expected such a level"
Clément Mateu is making his debut this season in a Porsche Mobil 1 Supercup with Martinet by Almeras. The strong man of Hexis faces stiff competition. After a good start in Barcelona, ​​the Montpellier driver was in the streets of Monaco before joining Silverstone in a few days where the objective will be to climb on the podium in the Pro-Am class. First assessment after two meetings …
When you started your first race in a Porsche Mobil 1 Supercup on the Barcelona circuit, moreover during an F1 weekend in front of 100,000 spectators, how did you feel?
Impressed ! The atmosphere was special. I remember there was a lot of orange. Fans of Belgian-Dutch F1 driver Max Verstappen are numerous and were present in droves. At the moment of exiting the pits and setting the grid, it is really spectacular! But despite the excitement, we have to stay focused on the technical part with warming up the tires and brakes. Then comes the training round. You no longer see the details, but you really feel that you are being watched. Obviously, this is heartwarming and it gives additional motivation, a desire to do well. It's the same feeling for all the competitors, everyone is over-motivated. It gives an even more explosive start than normal!
How did you experience your very first race in a Porsche Mobil 1 Supercup?
With some pressure. There are many things to consider in this type of racing. Now these elements and feelings are recorded in my mind so I feel much lighter in my approach to future races. Faced with so much news and information, I had to adapt. All of this is now being assimilated and I am confident in the future. In any case, I expected such a level and I am not disappointed! Developing in a prestigious sprint formula like the Porsche Mobil 1 Supercup is a real personal and sporting challenge with high visibility and media coverage. Everything is perfectly orchestrated by the Porsche staff and I am in the best possible conditions thanks to the professionalism of the Martinet by Almeras team.
Then there was the race in Monaco, how did it feel to drive in the mythical Monegasque streets?
Monaco is one of the most prestigious slopes. All the pilots hope to have the chance to ride there one day and I can say that I was lucky! Personally, that means a lot to me. When I was 15, it was the first grand prix I attended with my dad. This is where my passion was born and where I started karting. Before the first free practice session, it was strong from an emotional point of view. Much like when you are about to jump in a parachute or bungee, the adrenaline is at its peak. The preparatory briefing before the Monaco race was special. You quickly understand through the recommendations of the team manager that this circuit is apart. When he says to you: "a good weekend in Monaco, it's already a weekend where you finish the free practice session.
There is very little grip on a track with urban asphalt with our slick tires compared to a permanent circuit, you have to adapt to its evolution. The assimilation of all these elements is extremely scary, but it's so good to have this positive pressure before your first qualifying in a Porsche Mobil 1 Supercup in the streets of Monaco!
What were your results in your first two races?
I lacked success in Barcelona. A competitor was in distress in the parabolic. I wanted to avoid a violent collision with him and I ended up in the baccalaureate… You have to see the positive side, this has earned me very good TV media visibility and great promotion from my various partners! But a white result in terms of points in the championship… This is why I was keen to make a success of my weekend in Monaco in order to start my season! And even if everything was not exceptional, I am very satisfied with my sporting weekend. 
Describe the qualifying session from the inside.
Green light, let's go for 30 minutes of qualifying and potentially two sets of new tires. I leave carefully, because the track is wet because of the rain during the night, for a warm-up and a rise in tire and brake pressures. To my amazement, I felt a track with high grip and good overall grip. In my car, I know very well that if I feel this, others feel it too, so all the drivers will quickly push their limits. The team stopped me early enough in the session to put on the second set of new tires. I thank them because it allowed me to have an end of the session with a lot of laps on a track that was becoming more and more seized up and I had time to heat up this last train. I realize that my lap times are really improving compared to the day before by more than 3 seconds. Lap after lap, the dashboard in the car is progressing. When I get to the pool bend at the end of the session, I see I'm over six tenths ahead and the red flag is raised. A competitor was violently put into the wall. The session is over and it will not resume. My time: 22nd out of 28 and 4th Pro / AM. Believe me, I was delighted with this session as a whole, although I could have hoped for a little better. When you also know that four competitors were not in the 107% (the 107% rule applied on all circuits implies that the time of each participant must be within the limit of 107% of the pole position otherwise it is not not qualified for the race,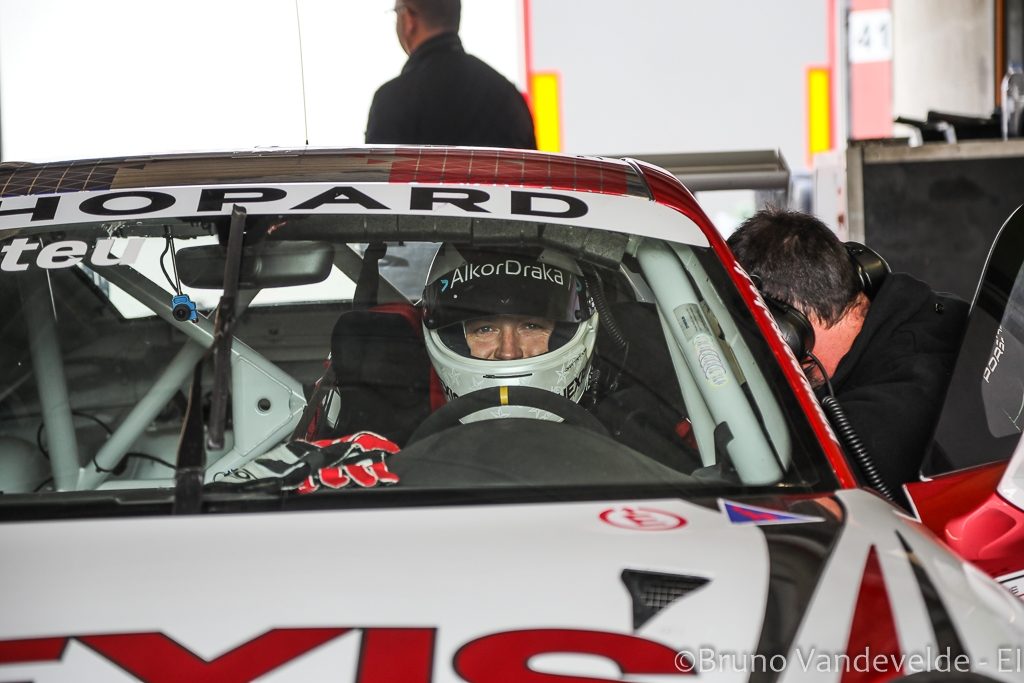 And then the race?
When putting in pre-grid it started to fall a few drops. The race director, with whom we were connected over the radio, warned us of a potentially tricky track and asked us to be vigilant. Fortunately, the rain quickly stopped. My start was good. I passed two cars before another drove past me in the "traffic jams" on the descent from the casino. I tried to drive as best as possible and took as much information as possible to improve my time. I had my best time of the weekend on my last lap, crossing the finish line 20th and 4th Pro / AM. My first points in the championship and one of my childhood dreams come true! I am definitely ready to fly there again next year, keeping in mind that the basis is respect for the principality.
What is your next important date?
Unfortunately, I could not be present at the Red Bull Ring because at that time the convention for the 30 years of HEXIS was taking place. To believe that it is done on purpose so that I do not go running on the soil of our competitors! (laughs) I'll have to wait for the Silverstone race from July 12th to 14th. My goal n ° 1 is to get a podium in Pro / AM! Silverstone remains a really technical track with an English climate. I can not wait to be there ! I already know this track, which will not be the case during the next two rounds at Hockenheim and Budapest. So I have to reach my podium goal in England at all costs. Especially since HEXIS UK, one of my main sponsors, and its manager, my friend Scott Wilkins, will be present with clients. The weekend must therefore be successful.