A moment that changed me: I watched a bomb-disposal robot from my window and my old life faded away
I grew up in rural Devon, but when I moved to London for university, I learned to embrace difference, modernity – and the unexpected.
I saw my first real-life robot from the window of my flat off Edgware Road, shortly after I had moved to London in 2010 for university. There had been a bomb scare – an unidentified object had been left at the foot of the fire escape and the disposal squad sent a robot to get rid of it. We were instructed to get as far from the window as possible, but we watched anyway.
The robot trundled over to the mysterious package, reaching towards it with its claw hand. It burbled like R2-D2, then there was a dull, brain-vibrating thud. The robot turned and trundled off again, leaving a starfish of what looked like ash in its wake.
Something about that robot entranced me, as it disposed not only of bombs, but also of the last vestiges of my country sensibilities. Growing up among the swaying palms and tranquil farms of Devon, I had always yearned to chuck it all in for danger – and now here I was. I had done it. There was an actual robot outside my flat. With its inscrutable trundling, it charged me up and put batteries in me.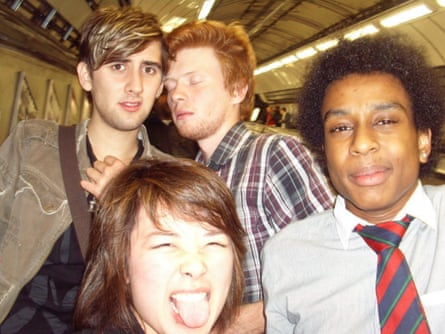 That night I got drunk with a drag-queen friend in east London, then we went back to hers and had sex. Her bedroom faced directly on to the smoking terrace of a pub, where a group of revellers cheered us on, waving cigarettes and beer bottles in encouragement. Then she got up, went to the window, bowed to more cheers, and slowly lowered her blinds. Show's over.
As well as new sexual escapades, I tried new culinary escapades. Penetrating my hangover through a smudged iPlayer tab, I heard Nigella Lawson say the word "capers" and realised I'd never tried them. So I bought some from the shop downstairs. They tasted like salty flower buds, and I was pleased to find out later that this is exactly what they are.
I started to eat anything I wanted for breakfast. You can have curry for breakfast. You can have packet noodles for breakfast. I realised our bodies will not reject food that is not tea and toast if we eat it before midday. Timing-related cuisine is an arbitrary concept and should be abolished in favour of globalist creative freedom. I discovered that gyoza before work is great – washed down with a strong mug of hot black coffee. Last night's pizza, with mayo and some pepper, is also possibly the best breakfast ever. You can even eat cereal at midnight, when you get home drunk. You can eat it all and you can do it all!
Later that year, I went to a student protest with friends. I saw the police behave abominably, mainly towards harmless young people. It taught me to question authority and, in fact, everything. I realised that you don't have to take anything lying down, and that life is really fun when it's fast, confident and powerful.
This is a city of defiance, full of surreal adventures and multicultural experiences. Living here has taught me to shed some unhelpful British traits, such as that uniquely toxic mix of painful politeness and extreme passive aggression that so many of us in this country participate in.
I have realised, for example, that if you have been waiting ages for a restaurant bill, it's OK to politely remind the staff, rather than just sitting there fuming (and complaining about it afterwards). I have also learned to sometimes shirk tradition for modernity, and swap common sense for spontaneity and excess. It's good to welcome chaos, difference and the unexpected.
Essentially, this most classically British of places, a tobacco tin of top hats and palaces and red phone boxes, has taught me to be less British. I've learned to put down my cup of tea, rip open the lace curtains and embrace the beautiful world outside.