Pop-up urinal death: Worker crushed by device 'dropping suddenly'
A man died after he was crushed and trapped underneath a pop-up public urinal which "dropped quite suddenly" while he was working on the device.
Kevin Holding, 60, was killed at Cambridge Circus in central London on 27 January, despite a rescue effort.
CCTV captured the moment the Westminster City Council toilet fell, police told the inquest into his death.
Mr Holding was pronounced dead outside the Palace Theatre at 15:40 GMT, more than two hours after becoming trapped.
A post-mortem examination gave the cause of death as compression asphyxia.
The inquest heard that the emergency services reached the scene, at the junction between Shaftesbury Avenue and Charing Cross Road, at about 13:05 but there was a delay in the arrival of a vehicle to help lift the urinal, until about 15:15.
Coroner Prof Fiona Wilcox, who opened and adjourned the inquest at a remote hearing at Inner West London Coroner's Court, offered "very sincere condolences" to Mr Holding's partner and three children, who attended the hearing.
The contractor, who started work between 10:00 and 10:30, had been nearing the completion of work on the toilet when he became trapped just before 13:00.
The 60-year-old was identified by his Oyster card. He was employed by Hi-tech Washroom Solutions Limited and lived with his partner in Beckenham, south-east London, the court heard.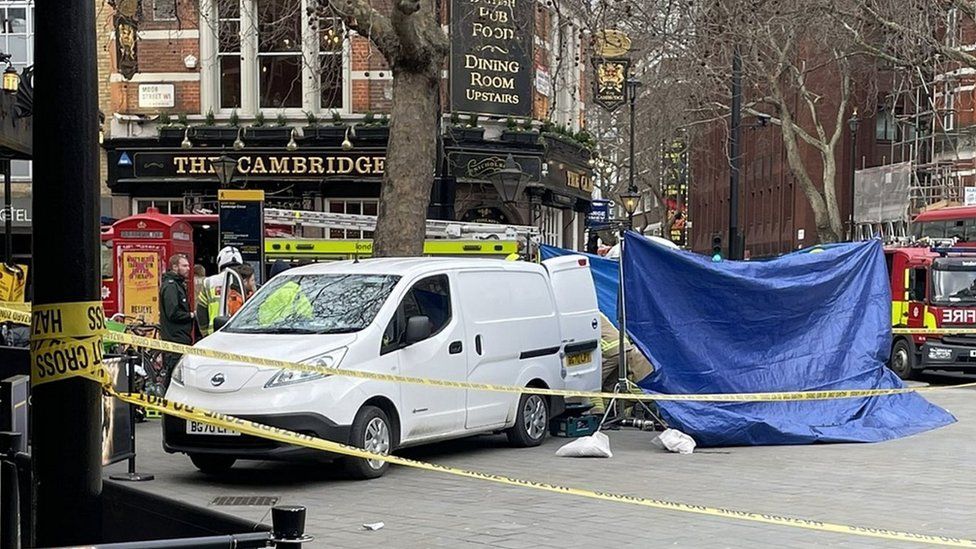 Pop-up toilets are stored underground and raised hydraulically to street level at night for people to use.
The devices were brought into use by Westminster City Council about 20 years ago in an attempt to discourage street urination.