Essex woman with alopecia appears at London Fashion Week
A woman with alopecia has said she hopes her appearance at London Fashion Week will be an inspiration to others.
Laura Mathias, 31, from Manningtree, Essex, hid her condition for 17 years but has been setting herself challenges to embrace it.
A year after "ditching her wig" she took to the catwalk in London which she described as "terrifying".
She joined 30 models from diverse backgrounds with clothes designed to help people with disabilities.
It is thought Alopecia affects 65,000 people in the UK.
Ms Mathias discovered modelling was her way of being the person she "couldn't see" when she was losing her hair.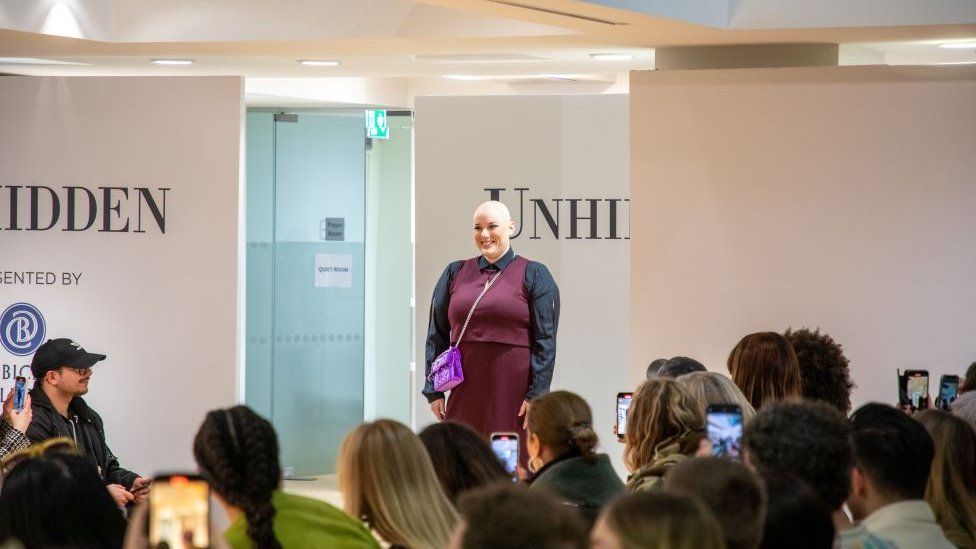 Ms Mathias was just 12 when she was first diagnosed and said she hopes other young people will be inspired.
She decided last year to ditch her wig.
"Role model is quite a comfortable word for me but model or supermodel, no I'm still not going to claim that," she said.
Ms Mathias took part in Victoria Jenkins "Unhidden" show at London Fashion Week on 17 February.
"It was terrifying, I'm not going to lie, it's been a real journey coming to terms with going out and about as a bald woman and embracing my alopecia," she said.
"But that doesn't mean there aren't other parts about me that I'm learning to love still. I'm a 31-year-old woman there are still things I wish I could change or I'm trying to embrace."
Ms Mathias said moves were now being made in the fashion industry to ensure wider representation.
"I really loved the day and meeting the 29 other people who are all various campaigners and some are models. Honestly it was just the most lovely , joyful day," she said.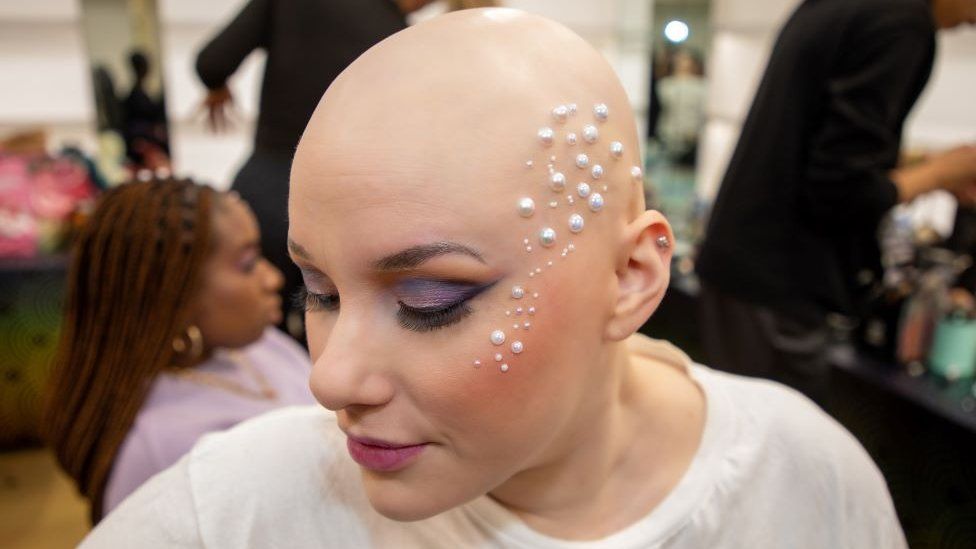 However she said there was still a "wobble moment".
"The only thing that got me through was thinking I have made myself challenges to promise myself to be that person that I couldn't see when I was losing my hair, I have to do this for her.
"That sounds dramatic but genuinely that's the only thing that got me through," she said.
Ms Mathias said she's realised how much energy she was wasting trying to "assimilate and look like everyone else".
Following controversy at last year's Oscars when comic Chris Rock made a joke about Jada Pinkett Smith's alopecia, she has noticed more people seem to know what alopecia is.
"There's still more to be done and I think role models are the new supermodels so I'm just going to keep chatting and if people want to hear about my big bald head that's fine by me," she said.